"Exhale is a captivating read..." — Daphne Merkin, author of 22 Minutes of Unconditional Love
Order Exhale Now!
Exhale is the riveting memoir of a top transplant doctor who rode the emotional rollercoaster of saving and losing lives—until it was time to step back and reassess his own life.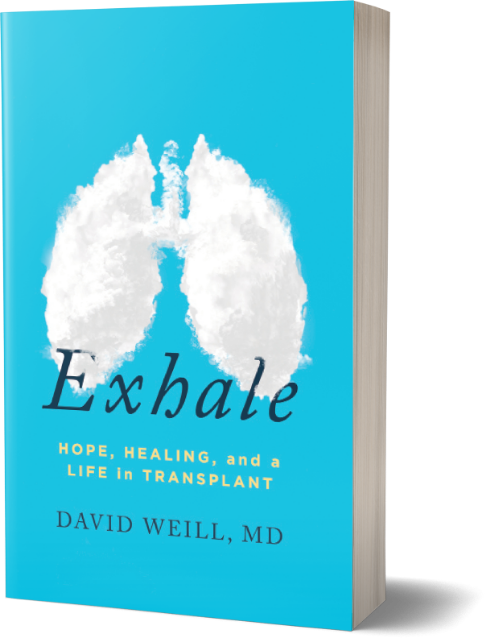 Inside the Book
A young mother dying on the waiting list in front of her two small children. A father with a rare form of lung cancer who has been turned down for a transplant by several hospitals. A teenager who was considered not "smart enough" to be worthy of a transplant. A woman dies because a surgeon provides the wrong donor lung. The days and nights waiting for donor organs to become available, aware of the painful reality that someone needs to die so that another patient could live.
These are some of the stories in Exhale, a riveting memoir about Dr. Weill's ten years spent directing the lung transplant program at Stanford and the very human endeavor of transplantation performed by people with powerful attributes and profound flaws.
Exhale is an inside look at the world of high-stakes medicine, the miracle of transplantation, the battle patients endure to survive, and the story of a doctor's eventual recognition that he needed to step away from the front lines.
Advanced Praise for Exhale
"Exhale is a compelling exploration of the beguiling world of transplantation. David Weill cranks up the hood to show us the engine—the stunning technological wizardry and the towering human dedication, as well as the oil-stained innards of profit and ego. You won't look at your lungs in the same way again! "
— Danielle Ofri, MD, PhD, author of "When We Do Harm: A Doctor Confronts Medical Error."
"Exhale should be read by every doctor—and by anyone—who stays up too late and works too much."
— Philip C. Breen, MD, PhD (father of Dr. Lorna Breen)
"Maturing from a hard-driving transplant doctor into a more compassionate clinician who finally allows himself to feel the anguish of the patients and their family, Dr. Weill finds he must confront his own unrelenting focus on treatment success. This is a riveting read."
— Laurence M. Westreich, M.D, Associate Clinical Professor of Psychiatry, Department of Psychiatry, New York University School of Medicine
"David Weill gives us a glimpse of the volatile and intense world of a transplant doctor, where split-second decisions can make the difference between life and death. Exhale is a captivating read about the courage and also the toll it takes to work at this rarified level of medicine. "
— Daphne Merkin, author of 22 Minutes of Unconditional Love
"With great clarity, David Weill captures the euphoria and intoxication of saving a life, alongside the brutal anguish of losing one and the lifelong trauma of burnout that ensues thereafter. A must read for everyone, including those who have lost themselves in who they're being for everyone else."
— Juliette Watt, Compassion Fatigue expert, TEDx Speaker